Workshops
Top 8 Landscape Editing Mistakes eBook
EB1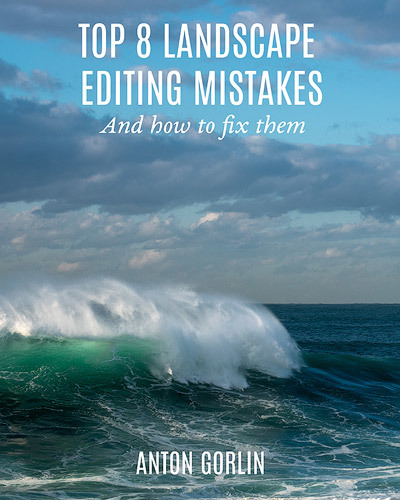 Editing is not just a quick fix to the photo, it's more like a separate kind of art. It is the way to express yourself, to show your vision and voice your feelings. I can't speak for everyone, therefore, I'll speak for myself. It took me a couple of years to learn how to create decent compositions and see the photos. But it took me 3-4 times longer to learn how to edit. I'm not kidding, it took me roughly 6-8 years to learn what I do know. I went through every single mistake in this book and it took me months if not years to overcome. You can save yourself an enormous amount of time by spending a single evening browsing through it.
e-Books
Buy Prints
Within each gallery, there is a little cart icon showing when you hover over the image. Also, when you browse images in full size, there is also a cart icon on the bottom left. Click it and select the desired size and finish. Please note, the sizes are for reference as photos may have different aspect ratio. In a case when the aspect ratio is different, I'll take the longest side length.
Colour Matching
Please do not expect the colours to match identically to those you see on screen because every monitor calibration is different and thus colours on the print may differ.
Non-Australian Customers
International orders are also possible. You may order via the site or contact me for the exact quote on shipping and time frame. Please include your address.
Returns and Refunds
I will accept returns within 14 days from the delivery date if you are not completely happy. The refund will not include shipping costs, and you are responsible for the cost of shipping the items back to me and insuring them for the retail price. Also, the product you return should be of saleable quality and condition to be eligible for the refund.
Images Not On This Site
Not every photo I create makes it to this site for various reasons. If you have seen a photo on Instagram/500px/Nat Geo/Reddit or elsewhere and it is not present in the portfolio, just drop me an email via the contact form and I will make it available.
Support this site
Here is a link to my Amazon gear shop. It contains affiliate links with items that I use(d) and know for sure their quality. If you use those links, you pay the same price and I get a small commission. So if you are planning to buy something, please use this link.